Welcome to the Grimm Fairy Tales Presents: Neverland Wiki
Welcome to the Neverland Wiki. This site is dedicated to gathering and sharing information about the various Neverland stories put out by Zenescope Entertainment, Inc. This includes the original Neverland series all the way to Nathan's appearance in the mini-series Bad Girls mini series and both Belle and Tiger Lily's appearance in the latest Grimm Fairy Tales Giant-Size as well as any future Neverland stories they may put out.
If you want to help create and maintain this wiki, hop right in and start editing. Just make sure to maintain the format of the pages and only add information that is related to the comics or those who have worked on them. To help with this, make sure you read the Rules for This Site before you get started. Information about characters as seen in other Peter Pan stories may be used for comparison, but may not dominate the articles about the characters.
What is most needed at present is people who have read the issues and are good at creating extended summaries as well as people who can provide information and/or pictures of both the characters and the creative team. As of today, June 13, 2021, this wiki contains 204 articles and 1,046 images.
Be aware that this comic is not for children and some characters, especially fairies, may be scantily clad in previews or, more likely, in very limited edition covers.
Nathan • Wendy • Pan • Belle • Tiger Lily • Dr. Harlow • John • Michael • Barr • Timmy • The Croc
Article of the Month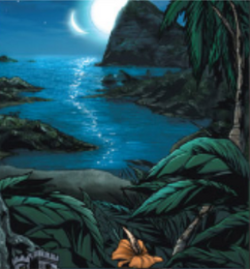 Once the realm of infinite imagination, Neverland was eventually overtaken by the evil, powerful, and corrupt, Pan. Pan found that the secret to his immortality was feeding off the souls of human children he borugh into the realm. Nathan Cross, a boy who escaped Pan's imprisonment 20 years ago, returned to Neverland as an adult to seek vengeance. With the help of Pan's former lover, Tinkerbelle, Cross was able to defeat Pan on Earth, where Pan was presumably drowned.
Character of the Month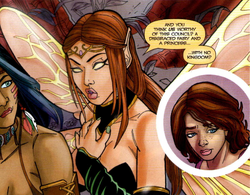 Tinkerbelle, better known as Belle is the only known fairy left in Neverland thanks to Pan. He kept her alive when he killed all the other fairies. Belle was Pan's lover since he began his rule of Neverland. She was jealous when he showed interest in someone else, namely Wendy. She was able to overcome her jealousy when she found something stronger than anything she had ever shared with Pan in Wendy's two nephews, a love that protects, even at the cost of one's own life.
Issue of the Month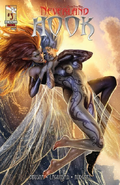 Cross returns to Neverland to find the it devastated by a war waged by the mysterious and evil new ruler of the realm. Known only as the Scourge King, Tiger Lily and her warriors are all that stand between him and the complete destruction of Neverland. Can Cross turn the tide of the battle or will he end up being just be another casualty on the battlefield?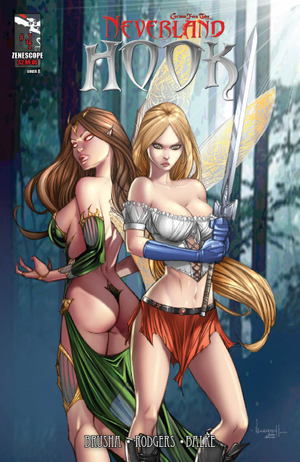 Recent Uploads
Quote-of-the-Month
"I don't think . . . I know what happened. If you want to analyze me then you can get the hell out of here. I'm only interested in someone helping me get my kids back."
Video-of-the-Month
Poll-of-the-Month
This is the first poll on this site.
Community content is available under
CC-BY-SA
unless otherwise noted.